Detect objects in varied and complex images.
Computer vision has advanced considerably but is still challenged in matching the precision of human perception.
Open Images is a collaborative release of ~9 million images annotated with image-level labels, object bounding boxes, object segmentation masks, and visual relationships. This uniquely large and diverse dataset is designed to spur state of the art advances in analyzing and understanding images.
This year's Open Images V5 release enabled the second Open Images Challenge to include the following 3 tracks:
Object detection track for detecting bounding boxes around object instances, relaunched from 2018.
Visual relationship detection track for detecting pairs of objects in particular relations, also relaunched from 2018.
Instance segmentation track for segmenting masks of objects in images, brand new for 2019.
Google AI hopes that having a single dataset with unified annotations for image classification, object detection, visual relationship detection, and instance segmentation will stimulate progress towards genuine scene understanding.
Object Detection Track
In this track of the Challenge, you are asked to predict a tight bounding box around object instances.
The training set contains 12.2M bounding-boxes across 500 categories on 1.7M images. The boxes have been largely manually drawn by professional annotators to ensure accuracy and consistency. The images are very diverse and often contain complex scenes with several objects (7 per image on average).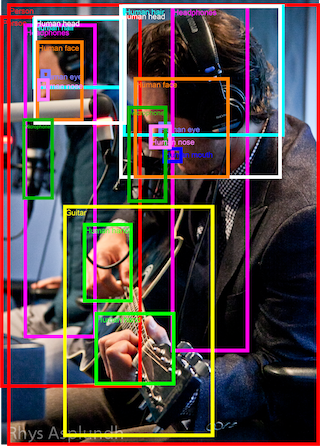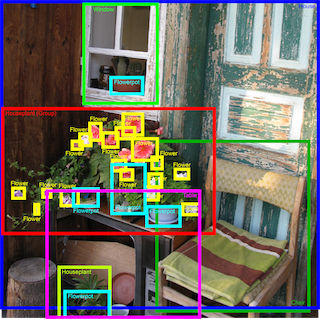 Example annotations. Left: Mark Paul Gosselaar plays the guitar by Rhys A. Right: the house by anita kluska. Both images used under CC BY 2.0 license.
---
Please refer to the Open Images 2019 Challenge page for additional details. The challenge contains a total of 3 tracks, which are linked above in the introduction. You are invited to explore and enter as many tracks as interest you.
The results of this Challenge will be presented at a workshop at the International Conference on Computer Vision.
We are excited to partner with Open Images for this second year of competitions. See link here for last year's Object Detection competition.
Awards:-
1st Place – $7,000
2nd Place – $6,000
3rd Place – $5,000
4th Place – $4,000
5th Place – $3,000
Note: As specified in the competition's rules, winners are not required to provide a license for their source code. However, as a condition of claiming the prize, winners are required to provide, by October 15, 2019:
A detailed description of their method (minimum of 2 pages double-column) . Requirements for the paper will be specified on the Challenge Website's Guidelines page.
Creative Commons Attribution (CC-BY) License to your winning Competition Submission's .CSV file predictions (that permits both non-commercial and commercial use of such Submission predictions).
Deadline:- 24-10-2019